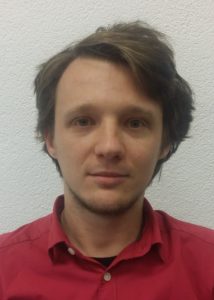 Anton Vladyka received his B.Sc. degree in Applied Physics from Taras Shevchenko National University of Kyiv, Ukraine, in 2010 and M.Sc. degree in 2012 (thesis work "Transport and noise characteristics of individual biomolecules in mechanically controllable break-junctions" performed in the Forschungszentrum Jülich, Germany).
Joined the group in November 2012 under the project "SyMoNe".
Office: 0.23
Phone: +41(0)61 26 73780
E-mail: anton.vladyka(at)unibas.ch
Research
molecular junctions; nanoparticles arrays; hybrid graphene-NP devices
Experience
micro- and nanofabrication; soft lithography; Matlab, R, Python, Julia programming; POV-ray
List of publications
List of talks
Controlled formation of organometallic molecular junctions in liquid environment.


Anton Vladyka

, J. Brunner, M.Gantenbein, M.Mayor, R. R. Ferradás, J.Ferrer, and Michel Calame. In 8th International Conference on Molecular Electronics "Elecmol-2016", Paris, France, Aug 2016.
Self-assembled nanoparticle arrays with graphene contacts.


Anton Vladyka

, Y. Viero, D. Vuillaume, and Michel Calame. In 2016 European Material Research Society Spring Meeting, Lille, France, May 2016.
Transport properties characterization of individual molecule device using noise spectroscopy: A new approach.


Anton Vladyka

, Viktor Sydoruk, Svetlana Vitusevich, Mykhailo Petrychuk, Dong Xiang, Andreas Offenhäusser, Vyacheslav Kochelap, Alexander Belyaev, and Dirk Mayer. In ICPS 2012 Zürich, volume 401, pages 401-402, 2013. [Abstract]


We studied the noise properties of break junction devices with and without a single 1,4-benzeneditiol molecule. Two noise components were registered in all noise spectra: thermal noise and flicker noise. In addition, a Lorentzian-shape (1/f 2) noise component was revealed for the molecular junctions only. The characteristic frequency of the Lorentzian-shape noise depends linearly on current through the molecular junction. These results are in good agreement with the proposed phenomenological model.